Welcome to IWDM 2014, the 12th International Workshop on Breast Imaging. Formerly called the International Workshop on Digital Mammography (IWDM), our new name recognizes the move in breast imaging towards recent and emerging technologies and multimodality imaging solutions. IWDM 2014 is designed as a platform to present the latest technological developments and clinical experiences of novel breast imaging technologies, including digital mammography, tomosynthesis, CT, MR, ultrasound, optical and molecular imaging. Additional topics include multimodality imaging, image processing and visualization, and computer aided detection/diagnosis (CAD).

The IWDM meetings bring together a diverse group of researchers, clinicians and representatives of industry, who are jointly committed to developing technology for early detection and subsequent patient management of breast cancer. The conference series was initiated at a 1993 meeting of the SPIE in San Jose, with subsequent meetings hosted every two years by researchers around the world. Previous meetings have been held in York (1994), Chicago (1996), Nijmegen (1998), Toronto (2000), Bremen (2002), Durham (2004), Manchester (2006), Tucson (2008), Girona (2010) and Philadelphia (2012).

IWDM 2014 will be held from Sunday June 29, 2014 to Wednesday July 2, 2014, on Juroku Plaza in downtown Gifu, Japan. The conference is held just after Computer Assisted Radiology and Surgery (CARS 2014) 28th International Congress and Exhibition, in Fukuoka, Japan (June 25-28).


Thank you very much for your interest and/or participation.
The IWDM 2014 was successfully done.
See you at IWDM 2016 in Malmö, Sweden.


IWDM 2014 is the best place to present your latest research on technological and clinical aspects of breast imaging, including
- Digital mammography
- Digital breast tomosynthesis
- CT
- MR
- Ultrasound
- Optical imaging
- Molecular imaging
- Pathological imaging
Topics of interest include, but are not limited to
- Multimodality imaging
- Image processing
- Image reconstruction
- Visualization
- Computer-aided diagnosis and therapy
- Quantitative imaging
- System design
- Image quality
- Dose reduction
Key Dates
Call for Papers
Paper Submission Start
November 1, 2013
Paper Submission Deadline
December 31, 2013
Author Notification
February 15, 2014
Author Final Submission
March 9, 2014

Main Conference

Oral and Poster Presentations
June 29 - July 2, 2014
After strict peer review, final accepted papers were published in Lecture Notes in Computer Science (LNCS) series by Springer and the proceedings book "Breast Imaging" (LNCS 8539) was distributed at the meeting. Additional copy is available at
Springer web site.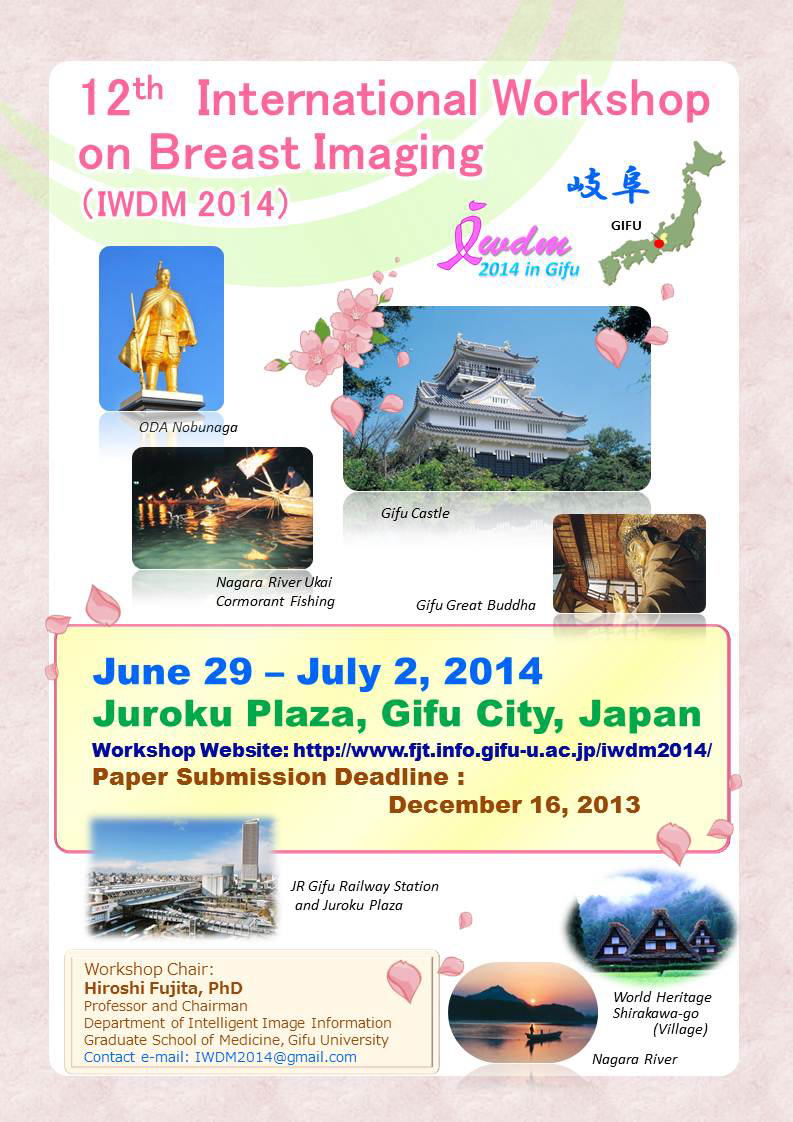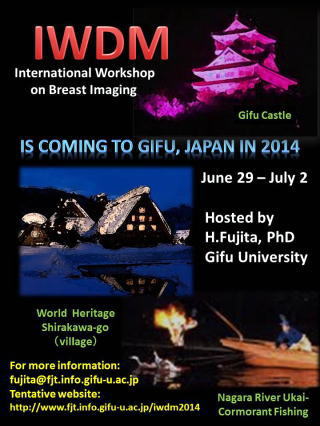 ---
Supported by
Academic Partners:
IEEE Nagoya Section
Japanese Society of Breast Cancer Imaging, Digital Mammography Sectional Committee
Japanese Society for Medical and Biological Engineering-Tokai Branch
Japan Society of Medical Imaging and Information Sciences
Japanese Society of Medical Imaging Technology
Japan Society of Radiological Technology
Korean Society of Breast Imaging
Cooperating Organizations:
Experience Gifu
Gifu Convention and Visitors Bureau
Gifu International Association
Gifu University Hougaku Club
Gifu University Urasenke Chado Club
Japan Radiology Congress (JRC)
Konica Minolta Science and Technology Foundation
NICT International Exchange Program
Research Foundation for the Electrotechnology of Chubu
Seijinkai
Sohga Kimono School
Springer
Support Center for Advanced Telecommunications Technology Research
Tateisi Foundation
Team Gifu, Gifu Bushoutai Shingitesshin
The Uehara Memorial Foundation
Sponsors:
Analogic Corporation
Barco, Inc.
Canon
Climb Medical Systems, Inc.
Devicor Medical Japan K.K.
Eizo, Co.
EVO Worldwide
Fujifilm, Co.
GE Healthcare
Hitachi-Aloka Medical, Ltd.
Hologic. Inc.
Hymnzone Technology Corporation
INNERVISION Co.
JVCKENWOOD Corp.(TOTOKU)
KONICA MINOLTA, INC.
KYOTO KAGAKU Co.,LTD
Matakina International Limited
Nihon Medi-Physics Co., Ltd.
Panasonic Medical Solutions
Co., Ltd.
Planmed Oy
Philips Electronics Japan, Ltd.
TOSHIBA MEDICAL SYSTEMS CORPORATION
TOYO Corporation
TOYO MEDIC
Varian Medical Systems
Wind River KK
Copyright (C) 2013 IWDM2014 All Rights Reserved.